Projects
Weather INnovations Incorporated works on a number of ongoing contracts as well as long and short term research projects. This page outlines some of the programs we are currently working on.
Agricorp
Apples
Grain Reports
Grapes
Irrigation
S.C.I.C.
Seed Corn
Soybeans
Strawberry
West Nile Virus
---
Agricorp Forage Rainfall Plan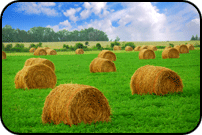 Agricorp's Forage Rainfall Plan is a production insurance plan designed to protect producers against seasonal drought. Since 2003, we have worked with Agricorp by collecting rainfall data across Ontario.
The project consists of 350 manually downloaded rainfall collection units. Each collection site consists of two rain gauges. One is equipped with a tipping bucket rain gauge and data logger, to measure every 0.2mm of rainfall. The other gauge collects rain directly. These stations are visited twice monthly by Weather Innovations collectors who download the data from the logger and measure the accumulated rainfall. The raw data is then relayed to our offices where our quality assurance specialists check it for anomalous or errant values. When the quality control process is complete, the data is provided to Agricorp for use in determining claims.
---
Apple Programs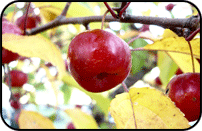 Weather Innovations Incorporated has been participating in a long term project initiated by Norfolk Fruit Growers Association that seeks to further the development of models for disease, insects and phrenology. WIN supplies the project with weather monitoring instrumentation, data management and information processing. The comprehensiveness of the research and the long term potential for improving the quality of apples produced and marketed in the Simcoe region make this a project WIN is excited to be involved in.
Now in 2007, as the research and feasibility portion of this project comes to an end, WIN is in the process of developing a number of pest-specific models that will be delivered on weatherinnovations.com, for the benefit of apple growers across Ontario.
---
Grain Reports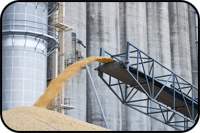 Weather Innovations Incorporated conducts custom monitoring for a number of Ontario's grain companies. Some operators use the data collected in their service area when reporting to their international clients. Many use the information to evaluate local growth patterns and keep their producer clientele informed.
---
Grape Programs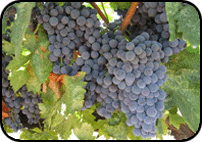 In 2003, WIN acquired possession of the Niagara Agricultural Weather Network, a system of several stations distributed throughout the Niagara wine appellations, and has been steadily updating the network ever since. There are now upwards of 65 stations on the peninsula, providing near real time data for an increasing number of programs. Over the past several years, Weather Innovations has been collaborating with Grape Growers of Ontario and Vintner's Quality Alliance (VQA) to provide services to the Ontario grape industry. WIN has developed disease models for both downey and powdery mildews in an effort to increase the efficiency of spray-timing.
The Niagara Peninsula is the world's leader in ice wine production. The area's unique location provides both warm humid summers, and very cold winters. In order for a vineyard's winter product to be considered ice wine, the grapes must be picked when the temperature at vine level is between -8 and -12 degrees Celsius. Due to the precise nature of this definition, it is crucial for growers to have an accurate means of temperature monitoring on site. WIN provides this monitoring with its own near real time stations. Since the crucial temperature range is often reached during nighttime hours, WIN also provides a system to alert producers when the conditions are right, enabling them to spring into action.
Most recently, WIN has become involved in the study of extreme cold temperature mitigation of grape vines. Under winter conditions, it is often the case that the air is warmer above the ground than it is at surface. Through the use of inversion fans, it is possible to bring the warmer air down to vine level, where the difference of a few degrees can make an impact in the area of frost management. As of the 2006 season, WIN installed 6 sixty-two foot inversion towers which monitor temperature at one, thirty-two and sixty-two feet levels. This monitoring supports both research and commercial use. When the temperature aloft is greater than that at ground level, the producer is alerted to engage the fans.
---
Irrigation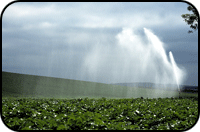 At present, WIN is collaborating on an irrigation research project with The Brace Center for Water Resources Management at McGill University and AAFC. Sensors connected to real time weather units are used to monitor single points or multi-level depths. New in 2007 is the TriSCAN probe, which measures both soil moisture and salinity, giving it the capability to monitor the movement of water and fertilizers in the soil. Research conducted with this newer technology is helping to develop a far greater understanding of best practices in irrigation and fertilizer application.
Weather Innovations has also been working to develop a number of tools that use evapotranspiration data to help growers with irrigation decision making. Currently, three of these tools are publicly available here:
Our ETo maps are designed to give producers a daily snapshot of the levels of evapotranspiration in their region.
The WIN irrigation scheduler, developed in partnership with OMAFRA, allows growers to input crop and field specific factors to obtain water deficit values for their immediate vicinity.
---
Saskatchewan Crop Insurance

The Saskatchewan Crop Insurance Corporation (SCIC) provides coverage to farmers for losses resulting from uncontrollable natural hazards such as drought and frost. In 2005, Weather Innovations Incorporated began working with SCIC, installing and maintaining a fully automated weather network that has grown to over one hundred stations across Saskatchewan.
The project uses a number of technologies to collect the raw data, including satellite, radio and cell download. Once the data is collected, it is processed into the WIN database and run through an extensive quality assurance/quality control process. This inspection process involves the use of visualization software and interpolation. SCIC is provided with the data, as well as a thorough monthly report during the growing season.
---
Seed Corn Projects

In 2003, we began participating in extensive irrigation studies for seed corn production with The Seed Corn Growers of Ontario. The first trials, conducted in 2003, studied the water budget approach to timed irrigation events. The system effectively estimated soil moisture throughout the season. However, the effort and accuracy required in determining field capacity and wilting points, measurement of rainfall and irrigation quantities and estimation of water loss through evapotranspiration, did not make this a practical system for the average grower.
In 2004 and 2005 a much more user-friendly method was tested. Using a capacitance probe, or 'C-Probe', which delivers hourly soil moisture readings at various depths, the grower is provided with a current picture of field conditions. The study compared both gun and drip irrigation systems on 16 varieties.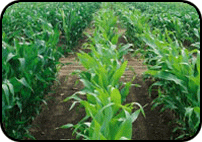 The use of the C-Probe proved to be the best method for monitoring soil moisture, allowing seed corn growers to make soil water decisions quickly and accurately.
Click here for more details and photos of the project.
At present, WIN is working on two other seed corn studies with private companies.
---
Soybean Projects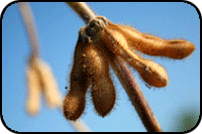 In 2001, Ontario Weather Network (now Weather Innovations Incorporated) prepared the 2001 Drought Assessment study. Dr. Gary Ablett (Director of Ridgetown College) presented this report to the Ontario Soybean Industry. The report consisted of over forty years of historical precipitation data, drawing a comparison to the enormous impact that the drought of 2001 had on soybean crop yields. Maps were constructed to establish a visual representation of the impact the rainfall had over different periods of the season where soybean development was crucial.
The report was well received by the Ontario Soybean exporters, who used this powerful representation when on trade missions in other countries. The study has been and will continue to be valuable as a comparison tool for future growing seasons.
---
Strawberry Row Cover Trial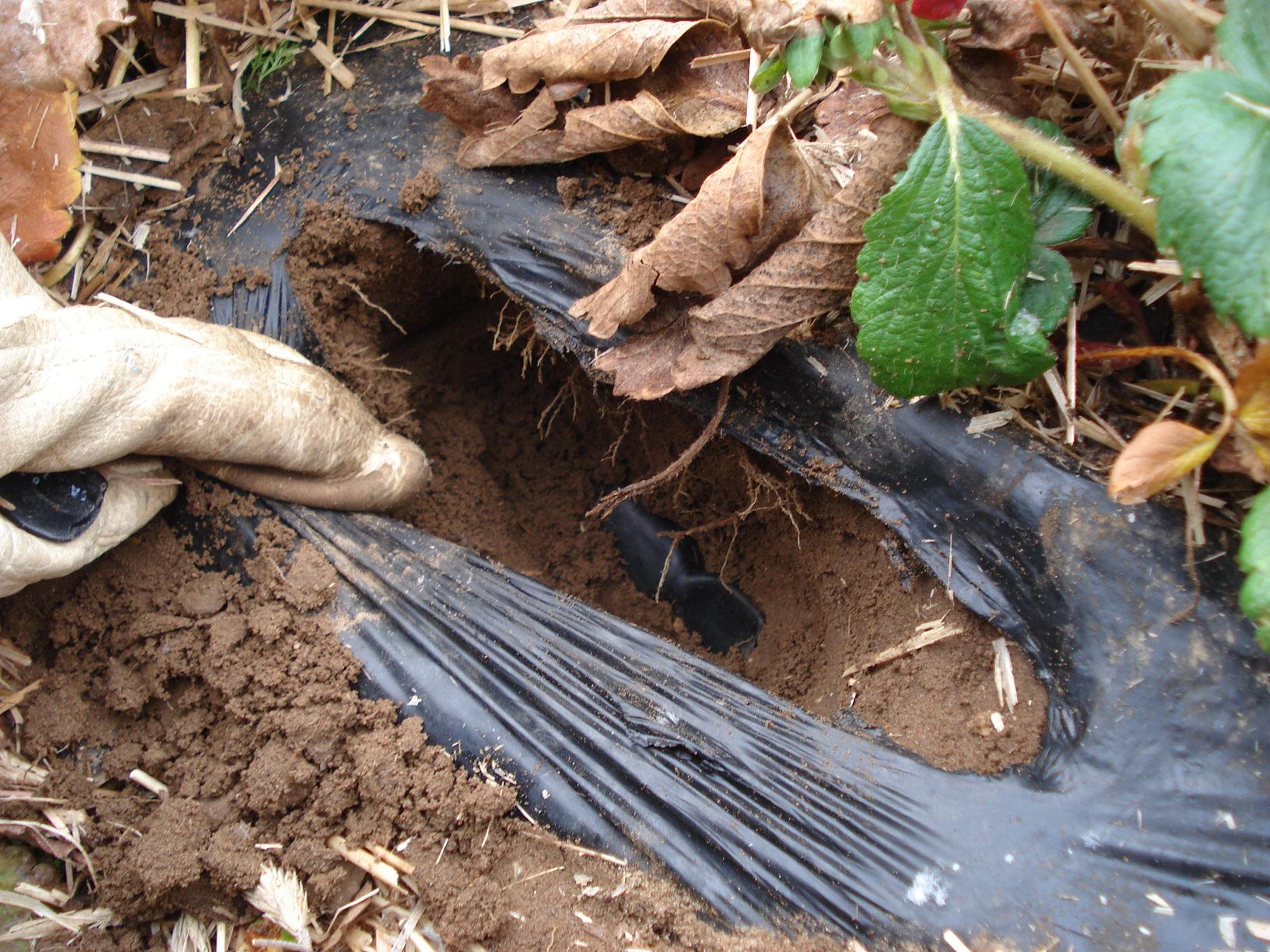 Weather INnovations Incorporated (WIN), in cooperation with OMAFRA, is conducting a row cover research trial in strawberries for the 09/10 winter season. Three treatments: straw mulch, floating row cover and no cover, are being compared over the winter on the yield and vigour of Albion strawberries the following year. The research plot is situated in a commercial field in Delhi, Ontario.
The first replicate site is fully automated with a crown-height air temperature sensor and a soil temperature sensor (10cm depth) in each of the three treatments. A standard height (1.2m) air temperature sensor was also installed to characterize the winter, as well as the fluctuations between surface and air temperatures. Two additional replicate sites are monitoring identical crown height and soil temperatures with manual loggers.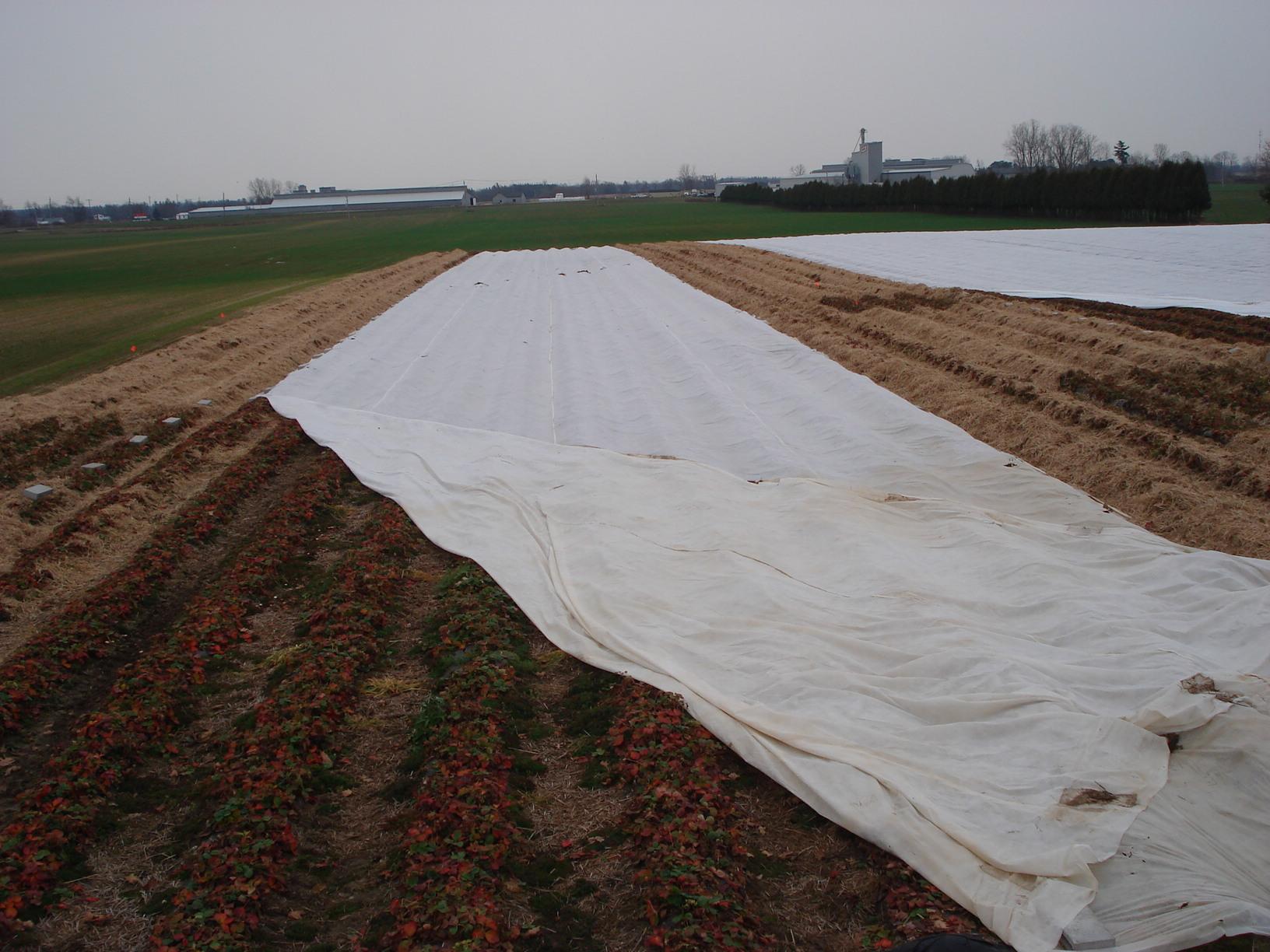 If you are interested in near real-time monitoring on your farm, or have any questions regarding this research trial, please contact Ian Nichols at inichols@weatherinnovations.com or 519-352-5334 ext. 223
To view the strawberry row cover trial data click here!
---
West Nile Virus Degree Day Model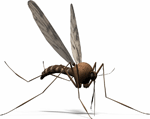 Ontario has experienced the human health risk of the West Nile Virus (WNV). Through the co-ordinated efforts of the Ontario Ministry of Health and Long Term Care (MOHLTC), public health units have developed numerous surveillance sites (CO2 traps) where the various species of mosquitoes, the insect vector of this virus, are counted and identified. A relationship between mosquito populations and relative risk of WNV is being developed. One of the parameters in forecasting mosquito development, and thus the relative risk of WNV, is the weather. The MOHLTC staff wish to explore the implications of weather, and more specifically the opportunity to use weather information in an early warning system, in addition to the documentation of mosquito and WNV outbreaks.
Weather Innovations Incorporated (WIN) has installed two weather stations in Essex county, in regions where high mosquito populations have been recorded in past seasons. The stations were placed next to the mosquito surveillance equipment, which will be monitored throughout the summer. Mosquito species and numbers of each species will be recorded. In Chatham-Kent the public health unit will use the weather data from a weather station located close to one of their surveillance locations.
These weather stations record hourly temperature, relative humidity and rain. Temperature values will be analyzed using Baskerville Day Degree model with a base temperature of 18°C. The Mosquito Degree Day model charts the current accumulated degree days and compares these values to the average for the past four years - 2003, 2004, 2005 and 2006.