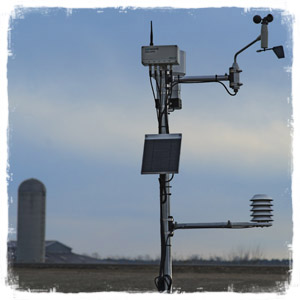 Research Initiatives
Grapes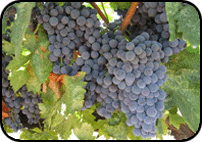 Over the past several years, Weather INnovations has been collaborating with Grape Growers of Ontario and Vintner's Quality Alliance (VQA) to provide services to the Ontario grape industry. WIN has developed disease models for both downey and powdery mildews in an effort to increase the efficiency of spray-timing. These services and tools are now accessible on vineandtreefruitinnovations.com.

The Niagara Peninsula is the world's leader in ice wine production. The area's unique location provides both warm humid summers, and very cold winter. In order for a vineyard's winter product to be considered ice wine, the grapes must be picked when the temperature at vine level is between -8 and -12 degrees Celsius. Due to the precise nature of this definition, it is crucial for growers to have an accurate means of temperature monitoring on site. WIN provides this monitoring with near real time stations. Since the crucial temperature range is often reached during nighttime hours, WIN also provides a system to alert producers when the conditions are right, enabling them to spring into action.

WIN is continuously involved in work of extreme cold temperature mitigation of grape vines. Under winter conditions, it is often the case that the air is warmer above the ground than it is at the surface. Through the use of inversion fans, it is possible to bring the warmer air down to vine level, where the difference of a few degrees can make an impact in the area of frost management. As of 2011, WIN has 10 sixty-two foot inversion towers which monitor temperature at one, thirty-two and sixty-two feet levels. When the temperature aloft is greater than that at ground level, the producer is alerted to engage fans.

In 2009, WIN began developing a remote monitoring and control system for a standard Acoustical Bird Device, which aids in protecting graphs from bird feeding damage. An operational prototype has been developed which integrates with WIN's existing communications network to provide remote control of the firing schedule and monitoring of position, firing events, and firing direction. Work is currently being done to improve the prototype and developing a web-based user interface.


View Other WIN Research Initiatives!