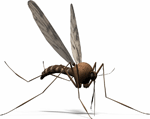 Ontario has experienced the human health risk of the West Nile Virus (WNV). Through the co-ordinated efforts of the Ontario Ministry of Health and Long Term Care (MOHLTC), public health units have developed numerous surveillance sites (CO2 traps) where the various species of mosquitoes, the insect vector of this virus, are counted and identified. A relationship between mosquito populations and relative risk of WNV is being developed. One of the parameters in forecasting mosquito development, and thus the relative risk of WNV, is the weather. The MOHLTC staff wish to explore the implications of weather, and more specifically the opportunity to use weather information in an early warning system, in addition to the documentation of mosquito and WNV outbreaks.
Weather Innovations Incorporated (WIN) has installed two weather stations in Essex county, in regions where high mosquito populations have been recorded in past seasons. The stations were placed next to the mosquito surveillance equipment, which will be monitored throughout the summer. Mosquito species and numbers of each species will be recorded. In Chatham-Kent the public health unit will use the weather data from a weather station located close to one of their surveillance locations.
These weather stations record hourly temperature, relative humidity and rain. Temperature values will be analyzed using the Baskerville Degree Day model with a base temperature of 18°C. The Mosquito Degree Day model charts the current accumulated degree days and compares these values to the average for the past four years - 2003, 2004, 2005 and 2006.
Ontario Ministry of Health and Long Term Care CO2 Trap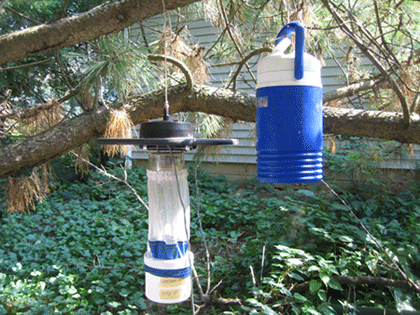 Mosquito Surveillance Equipment